Tires
Goodyear tires are on more new vehicles in North America than any other brand. It's that confidence, combined with our expertise, that keeps both drivers and auto professionals coming back to Goodyear time and time again. Explore some of Goodyear's best winter, summer and all-season tires below and find the right one for your vehicle.
All-Season Tires
Goodyear's all-season tires help provide stable handling and even treadwear in a variety of weather conditions including rain, sleet, slush and even light snow.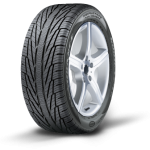 Winter Tires
Be prepared for ice, snow and other winter conditions with the innovative technology of Goodyear snow tires – specifically designed to help handle severe winter driving conditions.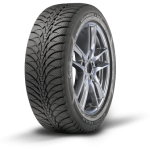 All-Terrain Tires
Our all-terrain tires help provide tough traction for on- and off-road adventures.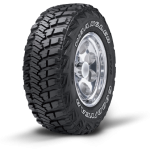 Sport Performance Tires
Our high-performance tires help provide handling, maneuverability, and enhanced wet traction.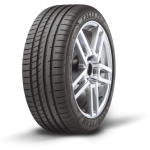 Fuel-Efficient Tires
Our fuel-efficient tires can help save gas and offer confident wet and dry traction.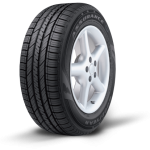 **Based on internal testing
Assurance® TripleTred™ All-Season: In Goodyear's '60 mph Wet Traction Test' the P215/60R16 Goodyear Assurance TripleTred All-Season significantly outperforms the 215/60R16 Michelin Defender, delivering on average 21% better wet traction.
Assurance® ComforTred® Touring: Comparison of industry data for T, H & V speed-rated tires versus Goodyear Assurance ComforTred Touring. Standard Goodyear Internal Ride test-P215/60R16, 2008 Toyota Camry LE V6 railroad track at 35 mph vs. Michelin Primacy MXv4.
Ultra Grip® Winter: In Goodyear's 'Snow Stopping Distance Test,' the Ultra Grip Winter tire stops on average 6 feet (1.8 meters) shorter on snow than the General Altimax Arctic 215/65R16 tire.
Eagle® F1 Asymmetric 2™: Based upon Goodyear Internal Vehicle Stopping Distance, Wet Skid Test on 225/45R17 tire versus the Bridgestone Potenza S-04 Pole Position.
Eagle® F1 Asymmetric All-Season: Based upon Goodyear internal Ice Stopping Test on 225/45R17 tire versus Michelin Pilot Sport A/S Plus and Bridgestone RE970 Pole Position AS.
Assurance® Fuel Max®: 2,600 miles/4,000 kilometers based on a 4% fuel economy improvement, on 65,000 mile/105,000 kilometer Tread Life Limited Warranty, as compared to the standard Goodyear Assurance® tire tested on P195/65R15 size ‐ 2008 Honda Civic. Actual results may vary based on when tires are replaced, driving and road conditions, and proper tire care maintenance.
Assurance® CS Fuel Max®: 2,600 miles/4,000 kilometers based on a 4% fuel economy improvement, on 65,000 Mile/105,000 Kilometer Tread Life Limited Warranty, 245/65R17 size as compared to the Goodyear Fortera® SilentArmor® tire tested on P245/65R17 size — 2005 Honda Pilot EX. Actual results may vary based on when tires are replaced, driving and road conditions, and proper tire maintenance